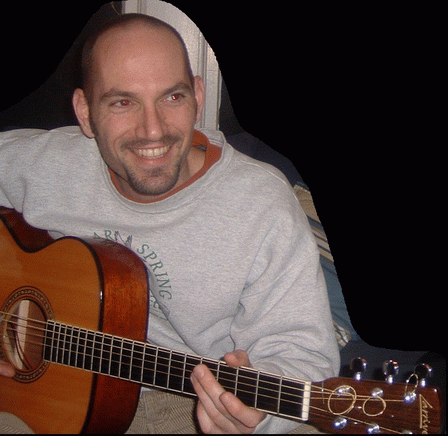 Cliff's oldest passion was music. From the time he was young, he played guitar and piano, largely teaching himself as he went along. Later he would try any instrument he came across, from saxophone to drums to harmonica. He also loved to sing, whether at Sloopy's in Manhattan Beach, with friends, or visiting his family. Cliff's mom always "made" Cliff play when he went to visit, so he eventually just decided to leave a guitar at Mom's house. Some of his "party favorites" included Billy Joel, Don McLean, Elton John, and the Kinks, as well as newer music and his own songs.
Cliff was the star of his brother Ross's wedding, when he plugged in after the band finished, playing beautifully for about half an hour, and making an already wonderful occasion truly unforgettable.
Cliff also brought his guitar along while traveling or hanging out with friends, always ready to sing and spread some cheer. He would sit out on a city street, serenading the passers-by, just for the joy of it. Cliff told a great story of sitting in the main square in Dubrovnik, Croatia late at night and singing with local Croatians as well as a group of visiting Irish musicians. With or without his music, Cliff always made friends easily and was a cherished part of people's lives....even people who had only met him once or twice.
A 16-song music CD of "The Best of Cliff Kaminsky" is available
to anybody who donates $100 or more to the Foundation.
On this page, we have a few sound clips of songs Cliff recorded.
Please click on a song name to hear the clip:
(if you do not see the media player below the song names, you may have to use a different browser or install a plug-in)